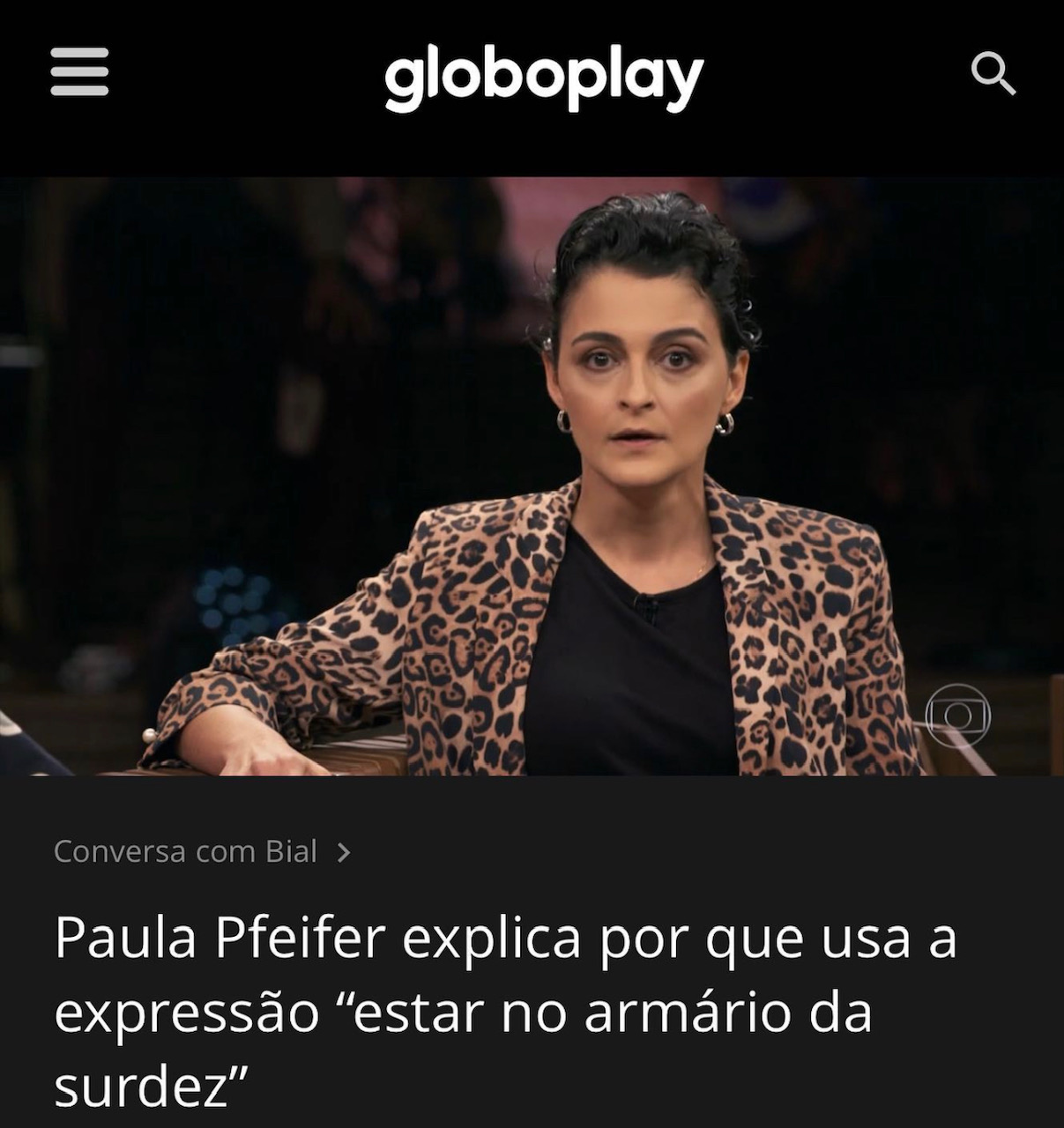 Sobre PAULA PFEIFER
Eu nasci ouvindo e comecei a perder a audição na infância. O diagnóstico correto de surdez bilateral progressiva só chegou aos 16 anos, quando já estava no grau severo. Foi então que comecei a usar
aparelhos auditivos
.
Até 2013, eu não conseguia mais ouvir música, atender um telefonema ou compreender a voz humana. A prisão do silêncio me sufocava, e eu sentia muito medo de sair dela. Mas, depois que permiti que a tecnologia revolucionasse a minha vida, pude me tornar uma ativista da surdez, e ajudar milhares de pessoas a sair dessa prisão. Foi a melhor coisa que já fiz na vida.
Fiz um implante coclear e voltei a ouvir todos os sons do mundo! 🙂
Em 2019, venci o Facebook Community Leadership Program e tive acesso a um fundo de 1 milhão de dólares para criar e executar o projeto Surdos Que Ouvem, que levou informação de qualidade a milhões de pessoas em todo o Brasil, América Latina e Portugal. Milhares dessas pessoas se tornaram surdos que ouvem.
Lidero a maior comunidade voltada a pessoas com algum grau de surdez que são usuárias de tecnologias auditivas na América Latina – somos mais de 22.000 pessoas num grupo fechado.
Crio conteúdo sobre surdez, aparelhos auditivos e implante coclear há uma década.
Escrevi três livros – Crônicas da Surdez, Novas Crônicas da Surdez – ambos já foram traduzidos para o inglês e o espanhol – e Saia do Armário da Surdez. Sou casada com Dr. Luciano Moreira, otorrinolaringologista especializado em surdez e cirurgias da audição.
Já dei palestras no Google, Facebook, Avon, Women of Tomorrow, WPP Stream, TEDx Talks, Creditas, Bradesco Seguros, Consulado dos EUA, SESC, Oracle e em inúmeras outras empresas sobre surdez e tecnologia, e milhares de pessoas acompanham meu trabalho.
Ser um Surdo Que Ouve é uma realidade para milhões de pessoas no mundo inteiro, e espalhar esse conhecimento é fundamental.
About PAULA PFEIFER: deaf author, writer and blogger
I was born hearing, and my hearing loss started in childhood. The correct diagnosis of progressive bilateral hearing loss only came when I was 16 years old, already at a severe level of hearing loss. That was when I started wearing hearing aids.
Until 2013, I couldn't hear music, answer a phone call or understand human voice anymore. The prison of silence suffocated me, and I was very afraid of leaving. However, after allowing technology to transform my life, I could become a deafness activist and help thousands of people to leave this prison. It was the best thing I have ever done in my life.
I got a cochlear implant and was hearing all the sounds of the world again! 🙂
In 2019, I won the Facebook Community Leadership Program and had access to a fund of one million dollars to create and carry out the project I Am Deaf But I Can Hear, which brought high-quality information to millions of people in Brazil, Latin America, and Portugal. Thousands of these people became deaf who can hear.
I lead the biggest community of people with some degree of hearing loss who are users of hearing assistive technologies in Latin America – we are more than 22.000 people in a closed group.
I have been creating content about deafness, hearing aids and cochlear implant for a decade.
I have written three books – The Chronicles of Deafness: Hearing Aids, New Chronicles of Deafness: Cochlear Implant – both were already translated to English and Spanish – and Come Out of the Deafness Closet. I am married to Dr Luciano Moreira, an ENT doctor expert in deafness and ear surgery.
I have lectured about deafness and technology for Google, Facebook, Avon, Women of Tomorrow, WPP Stream, TEDx Talks, Creditas, Bradesco Seguros, U.S. Consulate, SESC, Oracle, and other countless companies, and thousands of people keep up with my work.
Being a deaf who can hear is a reality to millions of people around the world, and spreading this knowledge is essential.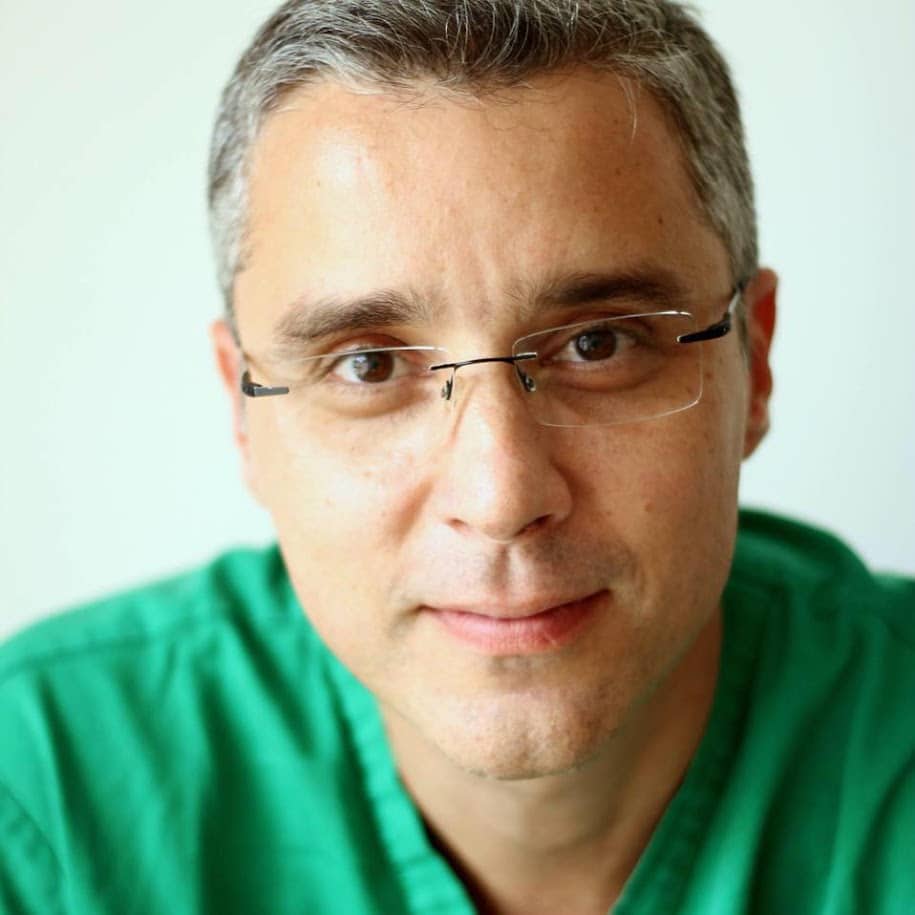 Meu interesse pela audição vem muito antes de eu ouvir falar em implante coclear ou reabilitação auditiva. O ano era 1992 e eu estava no segundo ano da faculdade de medicina.
Sendo amante da música e sem mais interesses específicos dentro da área médica, os mistérios sonoros me direcionaram para a otorrinolaringologia. Foi assim que o fascínio pela audição se transformou no trabalho que venho exercendo nos últimos 23 anos.
Terminei minha graduação em medicina na Universidade Federal de Juiz de Fora em 1997 e a residência médica em Otorrinolaringologia na Universidade do Estado do Rio de Janeiro (UERJ) em 2000, tendo no mesmo ano obtido o título de Especialista em Otorrinolaringologia pela então Sociedade Brasileira de Otorrinolaringologia.
Fui bolsista em Cirurgia do Ouvido e da Surdez da Fundação Georges Portmmann (Bordeaux, França) entre 2000 a 2001. E foi lá que acompanhei meus primeiros implantes cocleares.
O trabalho junto com Paula e o Surdos Que Ouvem me ajudou a abrir uma nova frente de atuação na minha missão, que antes eu cumpria apenas no consultório e nas salas de cirurgia: levar sons e audição a todos que precisam!
Atendo meus pacientes no Rio de Janeiro (Copacabana) ou através de Telemedicina.
My interest in the human hearing came long before I heard about a cochlear implant or auditory rehabilitation. The year was 1992, and I was in the second year of medical school.
Being a music lover and having no specific interests in the medical field, the mysteries of sound led me to ear specialization. That's how the fascination for human hearing turned into the work I've been practicing for the last 23 years.
I finished my medical degree at the Federal University of Juiz de Fora in 1997 and my medical residency in ENT at the State University of Rio de Janeiro (UERJ) in 2000. In the same year, I earned the title of ENT Specialist by the so then Brazilian Society of Otorhinolaryngology.
Between 2000 and 2001, I was a scholarship holder at Georges Portmann Foundation (Bourdeaux, France)'s course on Ear and Deafness Surgery. I performed and followed up my first cochlear implant surgeries there.
The work with Paula and the project I Am Deaf But I Can Hear helped me set a new goal in my mission, which at first I only accomplished in the office and in the operating room: to bring sound and hearing to everyone who needs it!
I see my patients in Rio de Janeiro (Copacabana) or by telemedicine.
Surdos Que Ouvem nasceu no início de 2017, quando precisei decidir o título do meu TEDx Talks. Desde então, já perdi as contas de quantas vezes ouvi: "Como assim surdos que ouvem? Surdos não ouvem!".

A expressão se mostrou precisa e certeira. Instiga a curiosidade das pessoas que não conhecem o assunto e faz com que queiram ouvir a resposta para essa pergunta recorrente. Dessa forma, disseminamos informação, combatemos fake news e quebramos tabus e preconceitos a respeito de pessoas com qualquer grau de deficiência auditiva.

No final de 2018, quando venci o Facebook Community Leadership Program (um programa global de liderança do Facebook com mais de 6500 inscritos no mundo inteiro) pela América Latina, recebi a missão de criar e executar um projeto em prol da nossa comunidade.

E foi assim que Surdos Que Ouvem se transformou num grande projeto, que foi executado de janeiro de 2019 a junho de 2020 e teve as seguintes iniciativas:

#surdosqueouvem se transformou num intenso movimento, atingindo um número incontável de pessoas nas redes sociais e recebendo muita atenção da mídia.

A representatividade, o senso de comunidade e de pertencimento faz com que, todos os dias, possamos dar as boas-vindas a novos membros, ajudar pessoas a saírem do armário da surdez e a descobrirem tudo o que a tecnologia, a medicina e a fonoaudiologia são capazes de fazer, hoje, por uma pessoa surda. A surdez é invisível, nós não!
I AM DEAF BUT I CAN HEAR movement
I Am Deaf But I Can Hear was born at the beginning of 2017, when I had to decide the title of my TEDx Talks. Since then, I have already lost count of how many times I've heard: "What do you mean deaf who can hear? Deaf people can't hear!".
The expression sounded accurate and assertive. It evokes curiosity in people who do not know the subject and makes them look forward to the answer to this recurring question. This way, we spread information, fight against fake news, break taboos, and shatter preconceptions about people with any level of hearing loss.
At the end of 2018, when I won the Facebook Community Leadership Program(a Facebook's global program of leadership with more than 6500 candidates in the whole world) for Latin America, I was assigned the mission of creating and carrying out a project on behalf of our community.
And that is how I Am Deaf But I Can Hear turned into a huge project, carried out from January 2019 to June 2020, and had the following actions:
Video campaign: millions of people in Brazil and in the world watched the 12 videos of the campaign which told life stories of deaf people who can hear.
Audible Connections: events 100% accessible to deaf people (with real-time closed captions, T-Coil and sign language interpreter) which shared high-quality information through lectures, testimonials, and talk shows with renowned hearing health professionals. In Porto Alegre (Rio Grande do Sul, Brazil), we had a 500 people audience, and more than 1.135 people attended an Audible Connections in 2019.
Recognizing and training new leaders: we recognize and train new leaders in the I Am Deaf But I Can Hear community so that turn into creative people and replicate our actions in our whole country.
Course for Parents of Deaf Who Can Hear: we created an online course with deafness experts (ENT doctors, audiologists, psychologists, social assistants, mothers of deaf who can hear and Paula Pfeifer) to share high-quality information about early auditory rehabilitation.
#IAmDeafButICanHear transformed into an intense movement, reaching countless people on social media and receiving a lot of attention from the press.
The representativeness, the sense of community and belonging makes it possible for us, every day, to welcome new members, to help people to come out of the deafness closet and to discover everything technology, medicine, and audiology are capable of doing, today, for a deaf person. Deafness is invisible, we are not!
CLUBE DOS SURDOS QUE OUVEM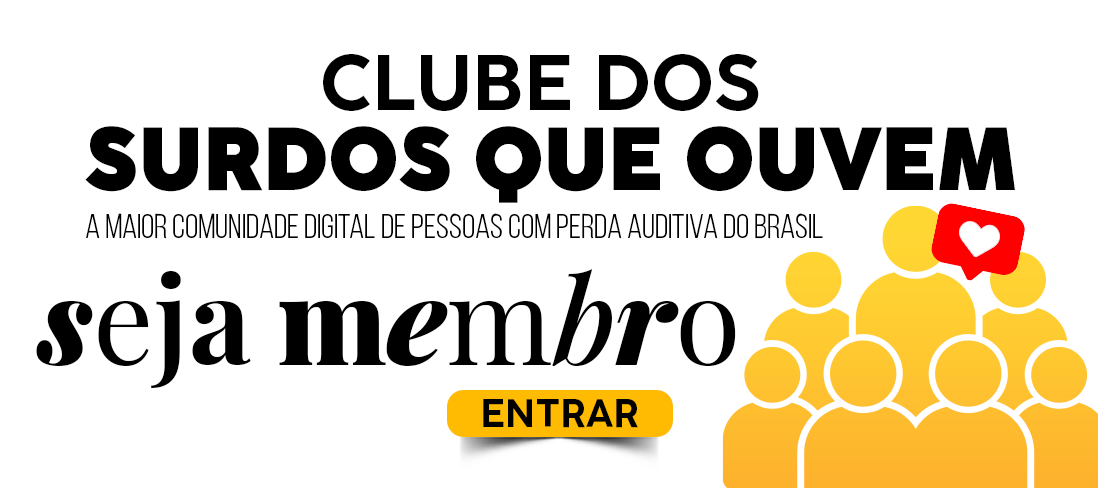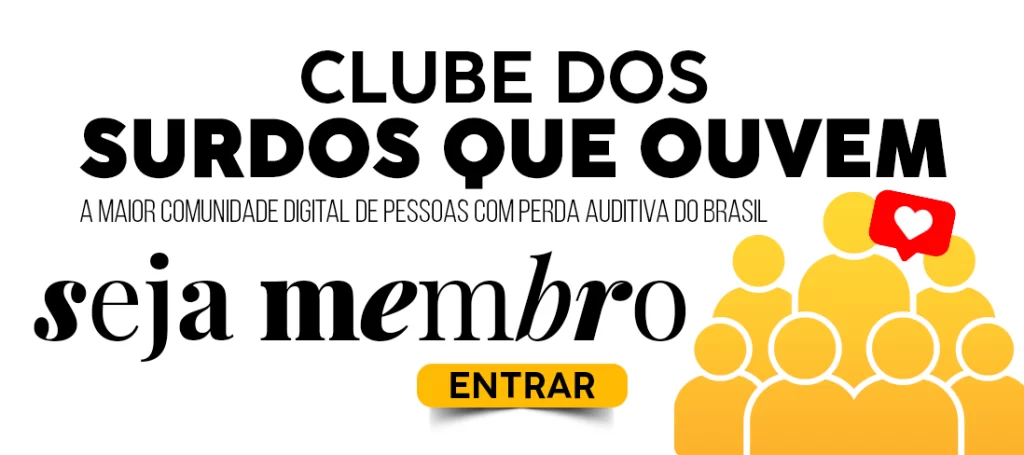 Torne-se MEMBRO do Clube dos Surdos Que Ouvem, a maior comunidade digital de pessoas com perda auditiva do Brasil. São 20 mil usuários de próteses auditivas com os mais diferentes tipos e graus de surdez para você conversar sobre as suas dúvidas a respeito do universo da deficiência auditiva.
Estar em contato direto com quem já passou pelo que você está passando faz toda a diferença! Vem com a gente aprender a retomar a sua qualidade de vida e a economizar milhares de reais na hora de comprar um par de aparelho auditivo – ou até mesmo a como conseguir aparelhos auditivos grátis quando você não tem grana para comprar do próprio bolso!
Se você for mãe ou pai de uma criança com perda auditiva, temos um Grupo de Telegram com centenas de famílias se ajudando mutuamente todos os dias.
Como MEMBRO do Clube dos Surdos Que Ouvem, você tem acesso às nossas comunidades digitais, conteúdos exclusivos, descontos em produtos e acesso aos nossos cursos. E o mais importante: a sua jornada da surdez deixa de ser solitária e desinformada e passa a ser muito mais leve, simples e cheia de amigos.