Millions of people worldwide want to know how to wear glasses with hearing aids! People like me, who have hearing and vision impairments, are totally forgotten by the eyeglasses industry. We need to find hacks to survive, and I'm sick of it. Doing my own research, I found some prototypes that are awful and were clearly NOT created by people who wear hearing aids in real life.
Wearing glasses with hearing aids is a huge challenge for people with hearing loss who need both things behind their ears. Wearing glasses with a cochlear implant is ten times more difficult because it occupies all the space behind the ear. My vision has been deteriorating since 2019. At 42 years old, I finally reached the point of needing multifocal lenses, and I faced a massive challenge because of it!
The eyeglasses I currently wear have standard-sized temples, which means they push my cochlear implants out of my ears, causing them to fall. Ever since I started wearing glasses, I've been raising up the temples to prevent them from touching my ears. However, this is impractical with multifocal lenses, which need to stay perfectly aligned for you to see both up close and at a distance. The era of improvisation has come to an end for me…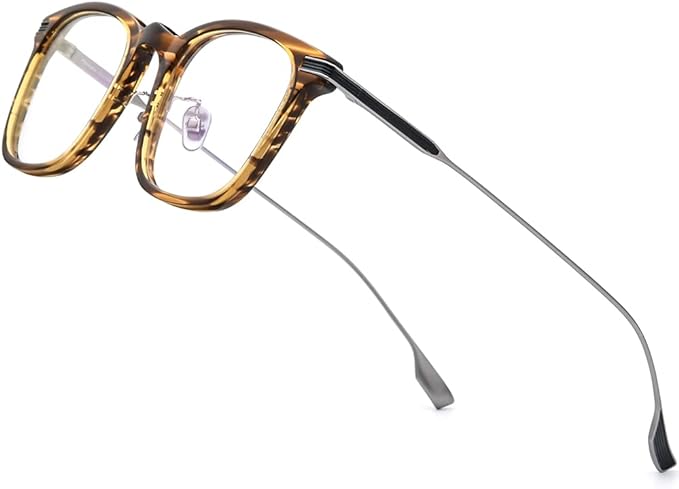 If you want a cheap solution, I found one. After weeks of in-store and online research, I thoutght that I finally found a suitable frame for my case. It's made of acetate with titanium and has a very affordable price. I bought the colorful version of the model shown in the picture above, but I shared the tip on Instagram, and it's already sold out. And you can browse through all the manufacturer's models HERE – just be careful with the temples, as that's the most important part. BUT…

I recently came across the Silhouette TMA Must Collection, and I must say, they are absolutely perfect. While the price is higher, the quality justifies the cost. Additionally, the frames boast malleable titanium and weigh only 3 grams, ensuring a lightweight and comfortable wearing experience. I had the chance to try these frames once my lenses were ready, and without a doubt, they will be my next glasses, especially for use with cochlear implants. It's worth noting that Queen Elizabeth herself was a Silhouette lover!
I won't try using contact lenses because I've had a nervous "mania" of touching my eye since I was a child (I recently got a terrible bacterial conjunctivitis because of it) that I can't get rid of. Some have asked me: why don't you buy a single-piece cochlear implant? First of all, because each one costs around R$60,000 (I live in Brazil), and I use two! Secondly, because the health insurance is not obligated to provide it just because I need glasses. And thirdly, because I'm not interested in the single-piece CI from the brand I use since its latest version uses only rechargeable batteries, and after 2,000 charging cycles (its lifespan), the only option is to replace it with a new processor, because you can't just replace the battery.
The LENSES FOR WEARING EYEGLASSES WITH A HEARING AID (MULTIFOCAL)
The lenses I'm going to use are from Zeiss, with PhotoFusion technology. I chose Zeiss for several reasons (after a long consultation with the optician, as I'm new to this and had many doubts, and I didn't want to make a mistake). The main reason was that Zeiss provides a 3-month warranty for you to adapt, and if you don't adapt to multifocal lenses, they provide one for close-up vision and another for distance.
Since my poor brain has to handle hearing with hearing aids and now seeing with "prosthetic" glasses, I thought it was wise to make this choice in case I can't adapt. I'll continue sharing my adaptation journey with you on Instagram as soon as I'm wearing the final glasses!
How to wear glasses with hearing aids or cochlear implants
Here ate my 5 top advices on how to wear glasses with hearing aids or cochlear implants:
Find the perfect frame:

it must be super thin
Talk to hearing aids and glasses users: find an online community of people with hearing loss and ask for advice!
Consider In-the-Ear (ITE) Hearing Aids: In-the-ear hearing aids are smaller and fit entirely in the ear canal, which can eliminate the interference with glasses. While they might not be suitable for all hearing loss types, they can be a great option for some individuals
Consider contact lenses: consider contact lenses as an alternative option if you find wearing glasses with hearing aids uncomfortable. Contact lenses can provide clear vision without the potential interference with behind-the-ear hearing aids. However, keep in mind that contact lenses may not be suitable for everyone, and there are factors to consider, such as maintenance, eye health, cost and your daily routine
Practice Patience and Gradual Adaptation: It may take some time to get used to wearing both glasses and hearing aids together. Don't give up!